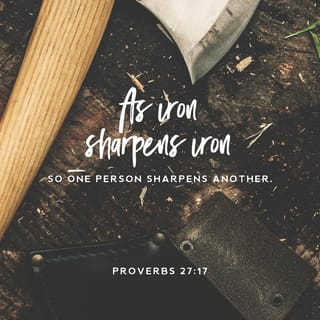 "As iron sharpens iron, so one person sharpens another.
The one who guards a fig tree will eat its fruit,
and whoever protects their master will be honored.
As water reflects the face,
so one's life reflects the heart." - Proverbs 27:17-19
The collection of proverbs for today make interesting reading. The first one speaks about having someone in your life who can "sharpen" you or keep you on your toes. Friends like this are very rare, but they are some important to have in your spiritual life.
The second one speaks about guarding a tree so that you can enjoy its fruit in due course - this is related to taking care of your master, so that they will reward you in the right time.
The third proverb is a very challenging one for each one of us, as it speaks into what we do with our lives. If we had to write this proverb slightly differently, we would say something like: "How you spend your time reflects what is in your heart."
May these words guide and instruct you today.
If Christ Jesus dwells in a man as his friend and noble leader, that man can endure all things, for Christ helps and strengthens us and never abandons us. He is a true friend. Saint Teresa of Avila

A true friend never gets in your way unless you happen to be going down. Arnold H. Glasgow
Living in Grace
D3LM3