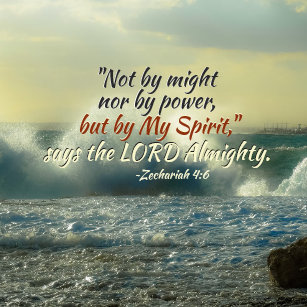 "
So he said to me, "This is the word of the

Lord

to Zerubbabel: 'Not by might nor by power, but by my Spirit,' says the

Lord

Almighty." - Zechariah 4:6
It is hard to discern the difference between working for what you believe God has called you to do, and then allowing the Spirit to do his work. It is tempting to try and do things in our own strength, but then we leave no room for God to work according to his timing and plans.
In whatever we do, let us remember that the Spirit of God is so much stronger than we can comprehend or even see. Trust in God to work in His power and His ways.
It is not MY might, but the strength of God that gets things done.
Living in Grace
D3LM3
"It is not by force nor by strength, but by my Spirit, says the

Lord

of Heaven's Armies." - New Living Translation